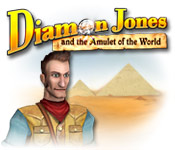 Players help Diamon Jones become the rich hero he has always wanted to be in the adventure game Diamon Jones: Amulet of the World. Players will explore the Pharaohs` temples in search of the amazing treasures found inside.
The goal of the game is to find the Amulet of the World. Once the players find the Amulet they must replace the item when the natural order of the world has been tipped on it's head. Players have to find the power to help Diamon Jones save the world, on top of becoming rich.
If you think you have what it takes to help Diamon, then check out Diamon Jones: Amulet of the World.